Wednesday, April 5, 2023, 8:00 a.m. – 12:20 p.m.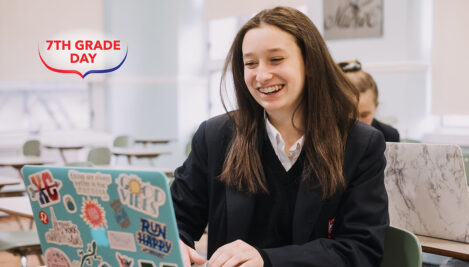 ---
Saint Dominic Academy invites you to join us for a unique twist on "Student for a Day." Instead of shadowing a current SDA student, you will be the SDA student for the entire day!
The only students in school on Wednesday, April 5 will be you and other current 7th grade students! (Some SDA ambassadors will be here to direct you around the building.)
Here's how your day will go:
Arrive* between 8:00 and 8:15 a.m.
At 8:20, you'll attend homeroom for 10 minutes.
At 8:30, your day will begin. You will attend a full schedule of 9th grade classes (in a shortened time-frame), taught by SDA's outstanding teachers!
You'll have lunch (courtesy of SDA).
Dismissal* will be at 12:20 p.m.
*Students will need to arrange for their own transportation to/from SDA.
Clothing should be school uniform or "business casual."
Interested in joining us for this very unique and exciting approach to Student for a Day? Participation will be limited to the first 100 applicants. Just complete and submit the form below to register.