Alumnae Valentyna Simon, '20 Featured on the Kelly Clarkson Show!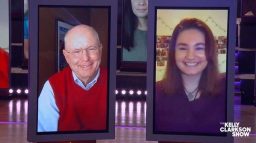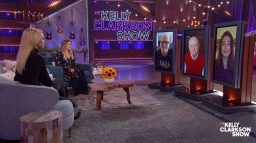 Valentyna Simon '20, along with her classmates at Chapman University, surprised their professor Dr. James Brown in a heartwarming video which has since gone viral after being posted on TikTok, gaining over 23 million views. During their last class of the semester students attended class with their cameras off and used that time to write notes of heartfelt thanks to their professor for having such a meaningful impact on their lives. Valentyna announced that the class had a surprise for him, revealing their individual messages on screen.
Valentyna Simon spent 6 well-loved years at St. Dominic Academy from the 7th to 12th grade.  An avid member of the Glee Club, she became president in the 2019-2020 school year as well as launching virtual Glee Club performances that spring.  She finished her time at SDA as salutatorian.    
In speaking with Valentyna,
"This semester, Dr. Brown helped us navigate understanding that a lot of parts of our education conforms to "we/they" thinking, resulting in us not seeing the full picture of the world around us. By breaking away and being an upstander instead of a bystander, we can slowly but surely save our planet before we kill it from the inside out.  Despite touching on hard topics such as war, genocide, and human trafficking, Dr. B made sure we were engaged in the material—we always had our cameras on in class because we enjoyed being there, which is unfortunately not the norm of zoom university. My brain has never been so stimulated in a class before, and I can honestly say that I have learned so much more than I could have ever expected in a semester."
Since this heartfelt gesture went viral it has been featured on Channel 7 ABC News, and will be featured on The Kelly Clarkson Show on January 14th at 2PM on NBC!  It will also be featured on NBC News with Lester Holt and Kate Snow this Sunday at 6: 30 PM. A link to the video and article can be found here: https://abc7.com/chapman-university-dr-brown-tiktok-professor/8696410/?fbclid=IwAR2bJaYlMTbRg1HudToMjYf86sUls4pKX1EdkWpDDjSAw3Zpgl_XW0iom_U