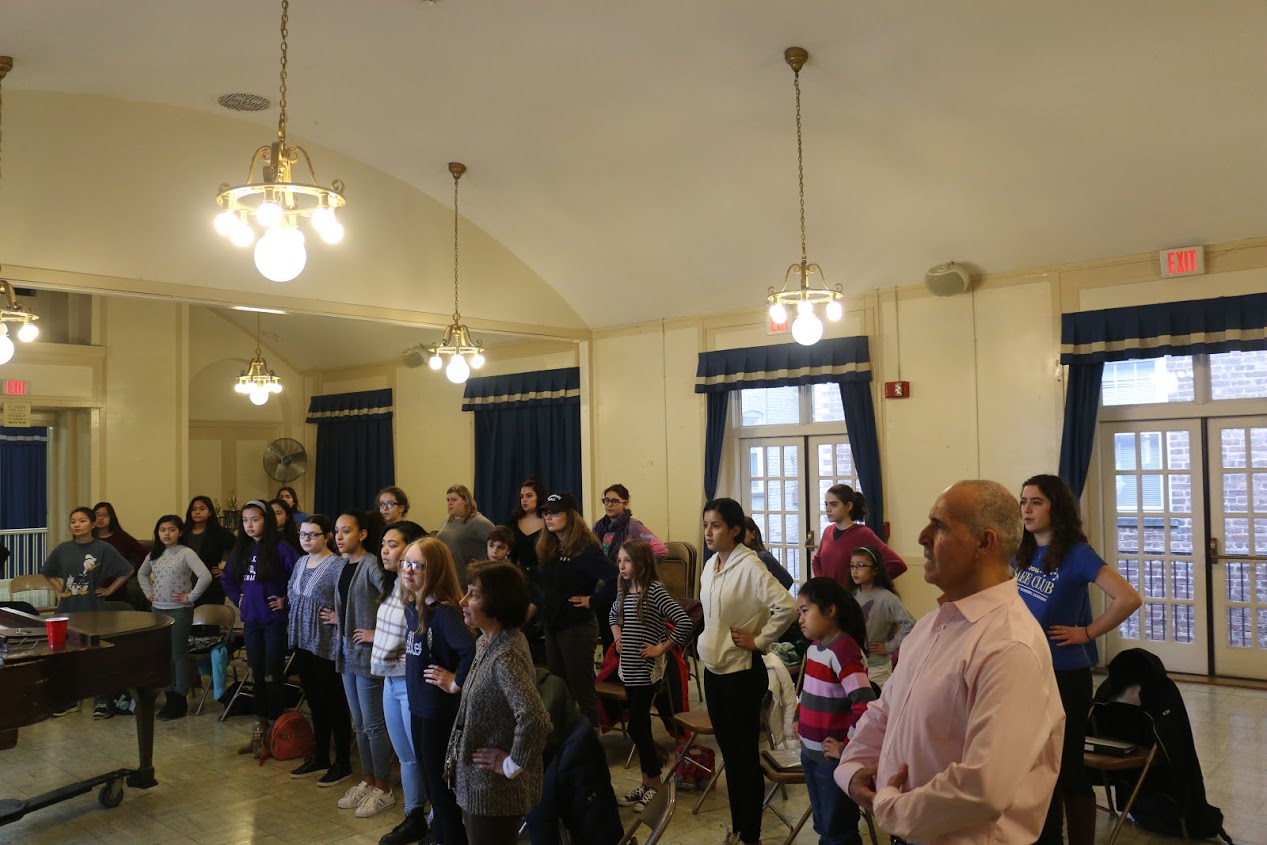 On Saturday, March 11, the SDA Dominoes, under the direction of Mr. Joseph Napoli hosted a three-hour Treble Choir workshop for students of All Saints Catholic Academy in Bayonne.  During the workshop, the Dominoes demonstrated the vocal techniques that have led to the choir's legendary sound. The All Saints student's voices blended seamlessly with the older Dominoes.  After vocalizing, the combined choirs sang, I'm Gonna Sing When the Spirit Says Sing, Shojojee (in Japanese), Simple Gifts and When You Believe (in Hebrew).  The students were great; a few even performed solos and received rousing ovations from the Dominoes members after their songs. Members of the Dominoes reciprocated with solos of their own from Les Miserables.   Chris Ann Weening, the ASCA choir's co-director told Mr. Napoli, "I have received so much positive feedback from both the parents and the students who participated in the workshop. They want to know when we're going back!"
That workshop was just the beginning of a very busy spring season for the SDA Glee Club and the Dominoes who will compete  on April 19 –April 23 at the Fiesta-val Invitational Choral Festival in Myrtle Beach.  This will be the 26th consecutive spring festival for the Glee Club and Dominoes who appear in the Treble Concert Choir and Treble Chamber Choir categories. 
The following week, on Friday, April 28, the Dominoes will sing at the world famous Saint Malachy's Church, The Actor's Chapel, in the heart of the Times Square Theater District.   The Dominoes performance is part of the National Catholic High School Choral Festival sponsored by Pueri Cantores, the official choral organization of the Catholic Church, under whose auspices members of the Glee Club and Dominoes sang at the Vatican last New Year's Day. The mission of Pueri Cantores is to provide the opportunity for Catholic singers to work with world-class conductors and receive advanced training in sacred music and the liturgy of the Church. Choirs attending the New York festival are drawn from Catholic schools in the tri-state area. According to Mr. Napoli, "The Dominoes sang at this festival in 2014 and so this will be the second time for some of our seniors."  Each choir performs three numbers and then receives a critique from guest clinician Paul French, one of America's most respected conductors of liturgical music. The Dominoes will perform Mendelssohn's Lift Thine Eyes to the Mountains, Psalm 23 and Randall Thompson's musical setting of the Robert Frost poem A Girl's Garden. 
The combined participating choirs will sing an Opening Anthem, With a Voice of Singing, and a Closing Anthem, Kyrie from Missa Secunda accompanied by Saint Malachy's famous restored Aeolian Skinner pipe organ and conducted by Paul French.
Two days later, the Annual Glee Club Spring Concert will be held at 6:00  p.m. at Saint Aloysius Church with special guests, Saint Peter's Prep VOX  under the direction of  Emily Fencik.  The two choirs will meet again on Saturday, May 13 at 7:00 p.m. for an evening  of "Great Music at Saint Matthew's"  at Saint Matthew Lutheran Trinity Church – 57 Eighth Street, Hoboken, New Jersey