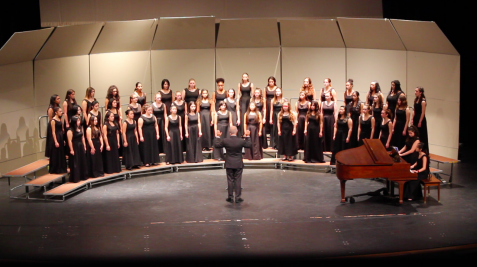 Congratulations to the SDA Glee Club and Dominoes who once again captured First Place in the Open Division – Treble Choir and Chamber Choir at the Fiesta-val Invitational Choral Festival held in late April in Myrtle Beach.
In the Treble Choir results, the Glee Club averaged a score of 94/100 and earned a Superior Rating.  In the Chamber Choir category, the Dominoes averaged a score of 92.3/100 which also garnered a Superior Rating.  Additionally, the Glee Club's accompanist, Christina Lai-Le a sophomore from Bayonne, was awarded an Outstanding Achievement Award.
On Friday, April 28, the Dominoes performed at Saint Malachy's, the Actors's Chapel, in New York City.  Their performance was part of the National Catholic High School Choral Festival sponsored by Pueri Cantores, the official choral organization of the Catholic Church, under whose auspices members of the Glee Club and Dominoes sang at the Vatican last New Year's Day.  Representatives of the organization agreed that SDA has one of the elite Catholic High School choral programs in the country, "one of the best they've ever heard!"  Mr. Napoli, SDA's veteran Glee/Dominoes director has been invited to present a nationally broadcast Webinar on directing Women's Choirs.  Stay tuned for more information in the fall!
On Sunday, April 30, the Glee Club and Dominoes presented their annual Spring Concert, "A Girl's Garden," which Mr. Napoli referred to as "a literary feast for English teachers."  The Glee Club sang musical settings of poems by e.e. cummings ("I Thank You God"), Robert Frost ("Stopping by the Woods on a Snowy Evening", "Come In", "A Girl's Garden"), Rudyard Kipling's "The Seal Lullaby," and "Wind Trilogy" by Christina Rossetti.  The concert ended with the soaring theatrical poetry of a 15-minute, 7-song "Les Miserables" medley presented along with special guests, Saint Peter's Prep VOX.  The two choirs will meet again on Saturday, May 13 at 7:00 p.m. for an evening  of "Great Music at Saint Matthew's"  at Saint Matthew Lutheran Trinity Church – 57 Eighth Street, Hoboken, New Jersey