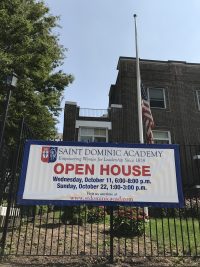 Saint Dominic Academy will host its Fall Open House for those interested in grades 7-12 on Wednesday, October 11 from 6:00 – 8:00 p.m. and on Sunday, October 22 from 1:00 – 3:00 p.m. The event will feature club and athletic demonstrations, presentations by academic departments and the administration, tours of the school along with complete information about the application for admission process for all grades, including transfers.  Anyone specifically interested in a tour should arrive no later than 7:00 p.m. and 2:00 p.m., respectively.
The Academy will also be a participant in two Archdiocesan High School Expos on Wednesday, September 27 at the Archdiocesan Center located at 171 Clifton Avenue in Newark and  in the Primary Prep Elementary School Auditorium (St. Aedan Parish) at 41 Tuers Ave. in Jersey City on Thursday, September 28.  Both events begin at 7:00 p.m.
Additionally, Saint Dominic Academy is offering the opportunity for prospective families to visit the Academy on Walk Through Wednesdays.  Beginning on Wednesday, September 20 and for every Wednesday that school is in session, visitors can stop by SDA between the hours of                10:00 – 11:30 a.m.    This program is designed for visitors interested in all grades (7-12) to see SDA in action.  Tours will take place while classes are being taught, and visitors will have the chance to speak with faculty, staff, students and members of the administrative team.  There is no appointment necessary.
Girls in 8th Grade are also encouraged to sign up for "Freshman for a Day" and "Don't Stress the Test."  Information can be found under the Admissions Link or by calling the Admissions Office at 201-434-5938, ext. 14.