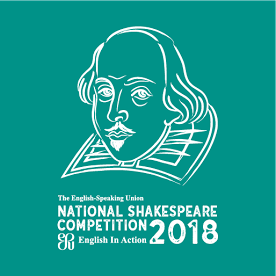 A Saint Dominic Academy junior represented SDA at the English Speaking Union's Shakespeare Competition on Sunday, February 25 in Princeton, NJ.  She performed Bottom's monologue from "A Midsummer Night's Dream" as well as a Shakespearean Sonnet.  
According to their website, The English-Speaking Union National Shakespeare Competition provides teachers across the country with a performance-based program for the study of English Language Arts and Shakespeare. It is a school-based program serving Grades 9-12.  Through the Competition, students develop communication skills and an appreciation of the power of language and literature.  The competition has engaged more than 300,000 young people since its inception in 1983.  The ESU National Shakespeare Competition has been recognized by the Globe Center (USA), the Children's Theater Foundation of America and the American Academy of Achievement.  Many distinguished judges have served on the Competition panels. (www.esuus.org) 
The junior was selected after the Academy held an in-school competition, following all ESU guidelines, which included naming a runner-up and third place winner.  The competitors had to memorize and perform a monologue with understanding of Shakespeare's words (no props or costumes).  The runner-up was a sophomore and the third place winner was another junior.