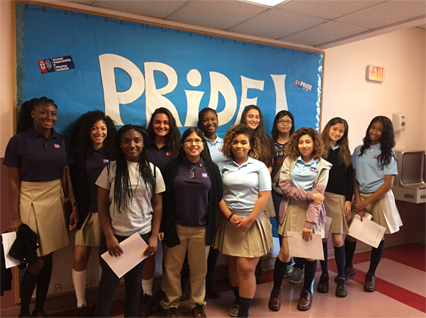 On Thursday, September 7, Saint Dominic Academy welcomed over 50 students in its freshman class.  The Academy also welcomed transfer students, international students and new students to both the 7th and 8th grades.
The girls hail from all across Hudson County and from towns in Essex, Bergen, and Union counties, as well.   International students hail from China, the Philippines and Denmark.
Many members of the Class of 2021 have the distinction of being named Siena Scholars. Nine new students are legacies; daughters of alumnae, while many others are sisters of SDA students and/or alumnae.
Members of the Academy's LINK Crew conducted a day-long orientation program with the freshmen. Built on the belief that students help other students succeed, LINK Crew was established as a transition program.  LINK Crew members, trained juniors and seniors, welcome freshmen and then, throughout the year, help them acclimate to the high school environment.
Classes began for all students on Friday, September 8.  Back to School Night for all parents will be held on Thursday, September 14 at 6:30 p.m.  The Saint Dominic Academy student body will officially open the school year with a school-wide liturgy at St. Aloysius Church on West Side Avenue on Friday, September 15.  Student Council Inductions and an Underclass Honors Assembly will take place on Friday, September 22.  
The Annual Mother/Daughter Brunch will take place on Sunday, October 1.  All students will participate in the Academy's annual Spirit Day Walkathon on Friday, October 6. Students walk from Saint Dominic Academy, located on Kennedy Boulevard and Duncan Avenue, to Lincoln Park below West Side Avenue.  A spirited celebration is then held in the park until noon, when the girls return to school for dismissal.
The Academy also has many exciting plans in store for its students.  According to SDA Head of School, Sarah Degnan-Moje, "We will expand our mentoring program to cover the 9th and 10th grade, increase participation in the Disney YES program, coordinate a school wide Trip Day once again and continue with Coffees with the Head of School. This year, our administration will work to guide our school through Middle States, and together as an SDA family we will celebrate the 40th anniversaries of John Nagel, Athletic Director and Joe Napoli, Glee Club Director as part of the SDA community. We will also implement our newest venture- Saturday Seminars in the City!"