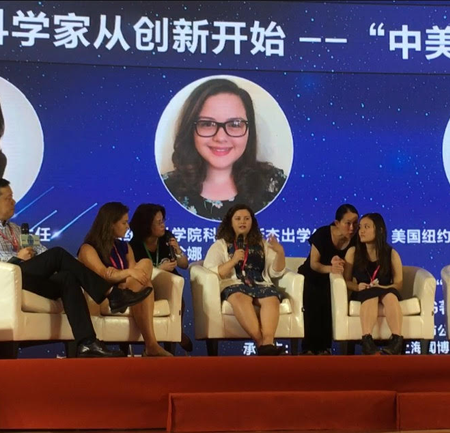 Many Saint Dominic Academy students experienced some exciting summer adventures.  Each of these exceptional young women are members of the Junior Class.  One participated in HOBY (Hugh O'Brien Youth Leadership Seminar) held in June at Monmouth University. Joining her was a recent graduate who returned for a second year to work as a Team Alumni/Junior Staff Member.  
One student represented the United States of America at the World Maccabiah Games in Israel.  There were about 10,200 athletes from around the world; as a member of the swim team, this student was one of approximately 48 swimmers in each event. Competing in the 16 and under division, she won a Silver medal in both the 400m and in the 4 x 200 Free Relay events.  She also took 4th place in two other events in which she competed.  The experience for her was once in a lifetime.  She spent days talking to other students from all over the world.  As a tourist, she saw Jerusalem, the Western Wall, the Caves of the Sea Scrolls, the Dead Sea, Masada, Haifa, Tel Aviv and much more.  
Also experiencing the opportunity of a lifetime was a student invited to attend the "2017 Shanghai International Popular Science Products Expo" to participate in the "Sino US Youth Innovation Dialogue".  She represented the New York Academy of Sciences (NYAS) with a fellow mentee in the 1000 Girls, 1000 Futures program along with a NYAS program manager. Among them were three other panelists: the program director of STEM Cloud Center in Shanghai and two exceptional Chinese students. During the dialogue panel, she was able to talk about the education system here in the United States and share some of her scientific achievements (e.g. her independent research projects). After, they were allowed to tour the exhibition center to learn about and experience many innovative products. Some of latest science products showcased were China's first driverless sightseeing car and a stimulated cockpit of China's first home-grown large passenger jet (C919). Through these interactive opportunities, she was able to learn about scientific advancements on a global scale. She said, "I had the chance to connect with people from different countries and different scientific backgrounds. We shared our experiences and insights on the latest scientific achievements, innovation, and gender equality in the world of science. We were also given some free time to explore the city of Shanghai! Although it was congested (as is NYC), it had a peaceful and friendly environment. I was able to visit the Jing'an Buddhist temple, Yu Gardens, and the Bund. This trip truly allowed me to gain a deeper understanding of Chinese culture. It was an exciting, once in a lifetime opportunity that I am eternally grateful for! "
Similarly another student was accepted into The New York Academy of Sciences. As a new student, she will receive a customized year long one-on-one mentorship from a STEM Professional.  She will participate in an online course with meetings in between at NYU.  Based on her application, she was also offered the opportunity to attend a bonus Global STEM Alliance Summit which was held at NYU. As a participant, she met students from all around the world and took part in workshops, and panel discussions.
One student participated in the National Youth Leadership Forum (NYLF): Medicine and another worked  in schools and care centers in Kathmandu, Nepal for four weeks as part of  Projects Abroad's High School Special programs, designed for teens 16-19 years old who are interested in helping developing communities around the globe. (www.projects-abroad.org)