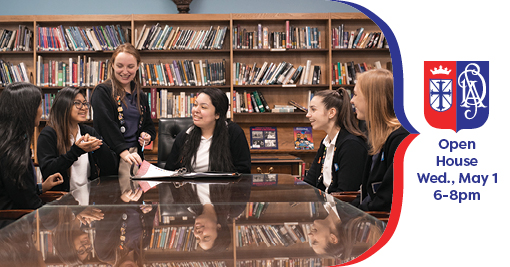 See how SDA believes in the power of girls!  Our Spring Open House date is:
Wed., May 1 at 6:00-8:00 p.m.
This event offers the perfect opportunity to learn about Saint Dominic Academy and our 140-year tradition of empowering young women for leadership in a global society.
For girls entering Grades 7-12 we offer:
Excellent college prep curriculum, including a robust STEM program
AP courses, plus the opportunity to earn college credits before you graduate high school!
10 Athletic Teams
Rich array of arts and extra-curricular activities
Advanced honors program for high achieving girls entering Grades 7-8
This Open House also feature club and athletic demonstrations, including a performance by the award-winning Dominoes, presentations by academic departments and administration, tours of the school and information about the application process for grades 7-12, including transfers. For further information, contact Director of Admissions Andrea Apruzzese at (201) 434-5938, ext. 14. 
---
Register for our Spring Open House!