Summer Program

for girls entering grades 4-8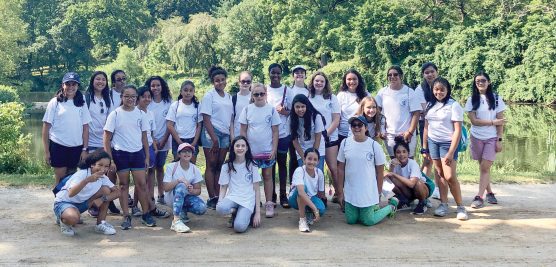 July 5 — July 28, 2022
Saint Dominic Academy is excited to offer the Rising Leaders Summer Program and HSPT® Prep for girls entering grades 4-8. This enrichment program is designed to help young women explore their interests, enhance their talents and abilities, develop leadership skills and create new friendships.
---
Schedule
4 week program: July 5 – July 28
Monday – Thursday from 8 am to 1 pm
Monday – Wednesday
Grades 4-7
Art Studio
Creative Writing
Fitness Fun
Girl Power
Robotics
_____________________________
Monday – Wednesday
Grade 8
HSPT® Language Arts Prep*
HSPT® Math Prep*
Art Studio
Girl Power
Robotics
*HSPT® Prep Course Only is available for rising 8th graders. 
_____________________________
Thursday
All students in grades 4-8 will attend field trips on July 7, July 14 and July 21.
July 28
Talent show, movie and pizza party at SDA
---
Course Descriptions:
Art Studio: Students will learn the elements and principles of design and apply them using paint, printmaking techniques, pen and paper. 
Creative Writing: Students will further their writing and editing skills by learning the ins and outs of writing poetry, short stories and screenplays.  
Fitness Fun: Students will participate in fun physical activities including yoga, dance fitness, kickboxing and more! 
Robotics: Students will use a robust robotics platform to design, build and program a solution to solve an existing problem. 
HSPT® Prep: Intensive preparation for the COOP/High School Placement Test
Students must bring their own lunch and drinks to the program.
Tuition Information:
$300 Non-refundable deposit due by May 25
$600 Balance due by June 15
_________
$900 Program Total
Discount Available! Save $50 if you pay in full by May 25. The payment of $850 must be received by Saint Dominic Academy on or before May 25, 2022.
Please Note:
Program fees are non-refundable after June 15th.
Program fees will not be prorated for partial attendance.
---
HSPT® Prep Course Only
For rising 8th graders who do not wish to participate in the entire Rising Leaders Program.
Monday, Tuesday and Wednesday
July 5 – July 27 
8am – 10am
$400 Course Total
If you have any questions, feel free to contact Enrollment Manager        Kristen Mallon at kmallon@stdominicacad.com or 201-434-5938 ext. 14
---