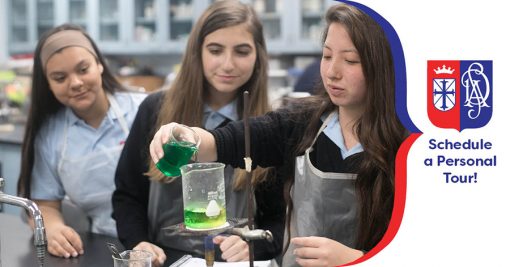 Are you seeking a more challenging middle school curriculum for your daughter? SDA offers an Honors Program for high achieving 7th and 8th grade girls who desire an accelerated curriculum. Girls participate in a rigorous academic course of study that includes the STEM (Science, Technology, Engineering and Math) curriculum.
Apply for Fall 2018!
There is still time to apply for the SDA Middle School Honors Program and college prep high school, grades 9-12! Interested parents and students can schedule a personal tour by filling out the form below:
[caldera_form id="CF5b1fd746b1c9f"]
How to Apply
Girls will submit:
Saint Dominic Academy Application for Admission.
Entrance Exam registration form and $50 fee.
Entrance Exams will be given on specific dates.
Applicant Record form (submitted by current elementary school)
Applicants may be invited for an Admissions Interview. Registration will take place by appointment.
Learn more about our 7th and 8th grade program!
Saint Dominic Academy 7th and 8th Grade Transportation (see Transportation).
Transportation is available to/from the NJ Transit Terminal in Hoboken.
Download these forms to start your application!
Questions? Contact Enrollment Manager, Kristen Mallon kmallon@stdominicacad.com or 201- 434 -5938 ext 14 .