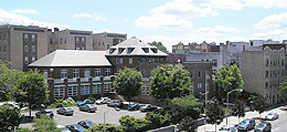 Saint Dominic Academy is one of the oldest independent secondary schools in New Jersey. It was founded in 1878 on First Street in Jersey City, the "downtown" area which was to remain for many years a gateway for immigrants and a starting community for their life in America. Saint Dominic's itself was founded by immigrants, Dominican Sisters originally from Bavaria who came to the New York area in the 1850's to help meet the educational needs of the children of German immigrants.
With the success of the early school and population shifts within the city, the Academy moved to larger quarters on Bergen Avenue in 1915, then to three houses on Bentley Avenue in 1930. These years of growth were accompanied by a growth in the reputation of the school as a well-respected institution for the education of Catholic girls at the high school level and as a place for musical and artistic development. The Academy became identified with its Bergen location so when it moved again in 1942 to its present location on Kennedy Boulevard, just several blocks away, it continued its presence in this section of the city.
The new location had formerly been known as the Carteret Men's Club. The structure adapted readily to school needs and provided a charming yet functional environment for its new purposes. Growth continued during the prosperous post-war period both in numbers of students and in expansion of the curriculum. In order to accommodate spatial needs, the convent area of the school was converted during the late l970's to more classroom and office space, with the sister-faculty moving to other convents within commuting distance.
In the mid-1980's enrollment in the business education electives began to dwindle and, after curriculum review, it was decided to eliminate these courses in favor of expanded college preparatory electives. Around this same time it became apparent that space was once more inadequate. After several years of prudent investigation, the Academy was able to purchase an abandoned property on Fairview Avenue, which was eventually cleared to make room for the school's expansion. Construction began in 1992 on the "new building" which came to be known as Alumnae Hall. The new area provides much-needed classroom space, along with two networked computer labs and excellent chemistry, physics, and biology laboratories.
With the renewed awareness of the role of women in the 21st century, as well as recognition of the importance of quality education to prepare women for leadership in both the commercial and professional worlds, Saint Dominic Academy finds itself well-positioned to contribute to these developments. As its early years paralleled the origins of an immigrant city, so the growth and strengthening of the Academy today mirrors the emergence of Jersey City's renaissance at the beginning of this new millennium.