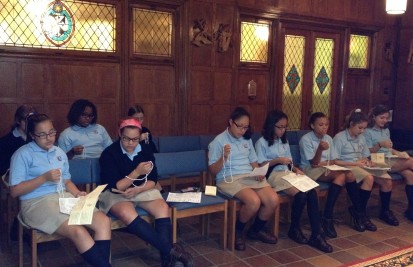 The Peer Ministry Program trains students, who already have a personal relationship with God, to develop their own faith and prayer life so as to reach out to their peers. Peer Ministry is about loving, because Christ first loved us. Peer Ministry is about doing likewise caring, welcoming and affirming others every day, everywhere and in every relationship so as to be a catalyst for promoting a vibrant Christian spirit on campus.
Peer Ministers are responsible for every facet of our spiritual life together with our Campus Ministry office; they share their faith by giving witness talks, act as facilitators at days of reflection, retreats, prayer services and all liturgical services.  Many of our students are of service to their parishes and local communities.
In keeping with our Dominican Mission and Philosophy statements of empowering women and to hold justice as a priority; we offer our students an opportunity to put into practice the teachings of Christ through the Corporal works of Mercy: Feed the Hungry, Give Drink to the Thirsty, Clothe the Naked, Shelter the Homeless, Visit the Sick, Visit the Imprisoned, and Bury the Dead in conjunction with the Ten Principals of Catholic Social Teaching.("The Building Blocks of Catholic Social Teaching" William Byron, America 31 October, 1998).
The objective of teaching The Ten Principals of Catholic Social Teaching is to acquaint the student with the ten basic principles of the Church's social thought and to facilitate their knowledge and understanding of them.  It is our hope that our Service Program will empower our students in the Spirit of St. Dominic as stated in the following:  "The Charism of St. Dominic is meant to bear the fruit of an active apostolate – one that is very much involved in the world. It is a life of contemplation joined with ministry to one's neighbor" (St. Dominic Academy Philosophy-The Charism of St Dominic) so that these principles will become integrated into their lives so as to become fully human and fully complete as Catholic Christians.
Over the course of their four years at St. Dominic Academy, a student is required to work 75 hours, 10 hours freshmen year, 20 hours sophomore year, 30 hours junior year and 15 hours senior year.
This faith based service program encourages our young women to put their faith into action by serving in non-profit organizations such as hospitals, day care centers, shelters, soup kitchens, and nursing homes.
In keep with the charism of our Dominican tradition, this club seeks to preach the Gospel through social action and prayer. The club's main purpose is to make the school community more aware of the needs of the poor and disadvantaged people, both locally and globally, and to sponsor and participate in events to alleviate these situations. Examples of activities include:   Thanksgiving Food Baskets, Christmas Giving Tree, new/used clothing collection, collecting money for the Homeless Shelter for unwed mothers (Magnificent House) in Jersey City, St. Jude for Homeless Teens in Las Vegas, sandwich making for the food bank in Our Lady of Sorrows Parish, Jersey City and collect of toiletries for the elderly (Caldwell) and can goods/sock collection for those less fortunate in our Community.
A faith based service program encourages our young women to put their faith into action by serving in hospitals, day care centers, shelters, soup kitchens and nursing homes.
Opportunities for reflection and spiritual growth are fostered by our yearly Eucharistic Liturgies for the Opening of School, Advent, Easter and Graduation.  Peer Ministers work together with Campus Ministry to plan the liturgies. Students may also take an active part in the liturgy by studying and preparing to become an Extraordinary Minister of the Eucharist, choir member, lectors and preachers of the Word.
Holy Mass is also available each week on Wednesday morning at 7:45 in our school chapel.
Dominican Preaching Conference
Every spring, four of our SDA women join students from other Dominican High Schools across the United States at a week long conference held at Siena College in Adrian, Michigan. Centered on the Dominican charism of preaching, the conference consists of input sesions, liturgical celebrations, discussion groups, role playing and service outreach. Students learn not only the different ways of preaching but also form new bonds of friendship that last well after the conference ends. They return to SDA excited and eager to share their experience and knowledge with the school community.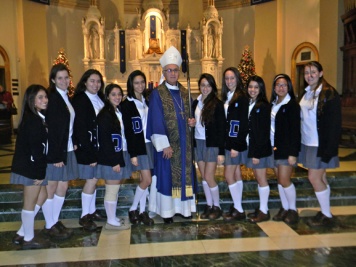 Students who are 18 years old are given an opportunity to become a Eucharistic Minister.  Students study about the Eucharist and the role they would play as a Eucharistic Minister, learning how to show reverence for the Most Holy Eucharist by their demeanor, their attire and the manner in which they handle the Body and Blood of our Lord. After two semesters of study and with the approval of the Bishop; students are commissioned at a school liturgy which is performed during Holy Mass with the Rite of Commissioning Special Ministers of the Eucharist.
During our school liturgies, when there is only one priest, our Eucharistic Ministers, are available to assist the priest in the distribution of Holy Eucharist.
Retreats are held with each class, allowing students to experience themselves, others and God, as well as foster their role as women of faith in the SDA community.  Campus Ministry, along with the Peer Ministers, plan the activities, witness talks and events that will take place on the retreat.  These retreats are held both on and off campus; which allow students to experience the variety and richness of Catholic Spirituality in the Dominican tradition.
Grades 7 – Designed to help students answer the question "Who am I?" (Identity)
Grade 8 – History of the Dominican Sisters in Jersey City including tour of Dominican sites in Jersey City.
Grade 9 – Dominican Charism (Caldwell)
Grade 10- Values/ Faith
Grade 11- Morality/ Faith (Half Day)
Grade 12- Day of Reflection – Design to reach out to seniors as they begin their last year in school.
Grade 12- Overnight Retreat at San Alfonso (optional) -Where do we go from here/Faith
Spirituality 
During the course of the liturgical calendar, and in keeping with the Dominican tradition we join with the Catholic Church to celebrate the seasons of Advent, Lent, Holy days, Saints' Feast Days, as well as, Dominican Feast days, Holy days of Obligation and other special occasions throughout the school year.  We begin and end each day in prayer as a school community by having our prayers prayed over the public address system.  Morning prayers are led by one of our Peer Ministers and at the end of the day the Dean of Students prays the Dominican Prayer:  May God Creator bless us.  May God the Redeemer heal us.  May God the Holy Spirit fill us with light.  Amen.
During the months of October and May the students honor Mary, Mother of God, who is our great intercessor, as she was for St. Dominic, by praying the rosary and participating in a prayer service which includes Crowning the Blessed Mother.  Students begin classes by praying the Memorare.