SDA students are provided the opportunity to develop and improve their art and music skills
Saint Dominic Academy students are provided opportunities for creative expression and the development of foundational skills in the areas of music, dance and visual art.
All seventh, eighth and ninth graders take introductory course in fine arts and music while juniors and seniors have the opportunity to take higher level art and music electives.
Saint Dominic Academy Student's impressive art work is displayed throughout the year for the viewing enjoyment of the school community and visitors. Students wishing to further their musical skills can join the prestigious, award winning Glee Club and Dominoes.
The Fine Arts department supports the annual musical production where students have the opportunity to act, sing, dance, design sets and manage technical aspects of production.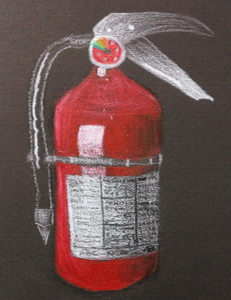 078 Music Experience 1
(7) Required
Course Credits 1.25
 This course aims to create a life-long passion for a variety of musical genres through extensive listening experiences.  Performing skills are enhanced through the introduction of sight singing and basic vocal techniques. The course is rich in activity based learning which includes student presentations on classical and contemporary performing artists using their I-Pads and our Apple TV to explore the vast amount of music that is archived online
089  Music Experience 2
(8) Required
Course Credits 1.25
Building on experiences in the seventh grade curriculum, this course further explores the world of music. Performance skills are enhanced through the introduction of higher level vocal techniques and vocal repertoire. Those students who play instruments are encouraged to share their talent with the class. Saint Dominic Academy's mission of female empowerment is examined through the lens of mixed messages, both empowering and misogynistic, that young women encounter in today's music.
862 Music Appreciation 
(9) Required
Course Credits 1.25
In this course, students are introduced the outstanding varieties of musical expression that have existed in all times and places. Students explore music as a healing art that connects human beings in an increasingly fragmented world. Singing is an important component of this course and students are encouraged to join the Glee Club for further vocal instruction.
853 Vocal Techniques for Choir 
(11&12)
Course Credits 5.0
In this course, students learn basic vocal techniques and apply these to solo and choral singing. Students learn vocal versatility by listening to and singing various genres including popular, musical theater and classical songs. When the Dominoes are invited, students in the singing class are asked to join them in a performance at Carnegie Hall.
853 VOCAL TECHNIQUES FOR CHOIR
(11&12) Elective
Course Credits 2.5
Everyone carries around an instrument with them; their voice! Students in this course will use their voices to gradually acquire a set of musical skills including note reading, understanding of musical styles and the ability to effectively communicate using their singing voices. Membership in the Glee Club is strongly encouraged.
 077/088 Art Experience
(7&8) Required
Course Credits 1.25
This course is an introductory art course where students will learn the basics of art skills, elements, styles, techniques, and aesthetics. This course will briefly introduce different artists and art movements. Projects will bring about a variety of art mediums for students to utilize and gain better control and confidence with. Students will study and learn about the relationship between creative expression and culture.
Art Appreciation
(9) Required
Course Credits 1.25
This course is a fundamental art class that will increase students' artistic abilities and knowledge. Students will broaden their understanding of the art elements and principles and how they apply those to their artwork. Students will connect the projects participated in to certain art movements, procedures, artists, and cultural influences. Students will begin to aesthetically appreciate and critique their own artwork and the artwork of others.
 815 Art Studio I
(11) Required
Course Credits 5.0
This course is designed for students who have an interest in the visual arts. Students will enhance their prior knowledge of the art elements, principles, and design by completing a number of different projects. Students will keep up with weekly sketchbook assignments to strengthen their creative drawing skills. Students will learn about famous artists and art movements as they participate in a number of different projects including a multitude of mediums (ranging from drawing, collage, sculpture, etc)
 art studio II
(12) Required
Course Credits 5.0
The purpose of this course is to further the knowledge, skills, and techniques learned in Art Studio I. Having taken previous art courses offered, this class allows for more creative freedom in projects, sketchbooks assignments, etc.  In this course students will continue to increase their artistic abilities using a variety of different mediums, and also grow stronger in their aesthetic understanding and critique. Projects will be geared towards certain artists/art movements and they will range from drawing, pen work, painting, collage, sculpture, printmaking, and more.
 Advanced Placement Art History 
(11&12) Elective
Course Credits 5.0
This course is an extensive study of art and architecture from prehistoric times through the present day. Characteristics, functions and styles of the Western art and the art other non-western cultures are explored. Students learn the story of some of the most treasured paintings, sculptures and building that remain a part of today's world.  A sincere commitment to study is required for success in this intensive college level course.
 Dance Fitness
This class introduces a variety of basic dance techniques that are beneficial to both dancers and non-dancers and promotes dance as beneficial to overall fitness. Enhancement of student interest in dance as an art form and interest in further study of dance are encouraged.