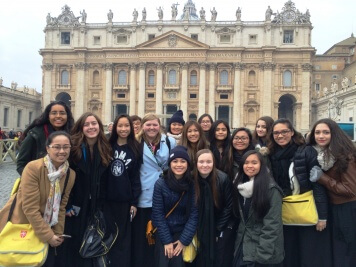 As  members of Pueri Cantores, the official student choral organization of the Catholic Church, many members of the SDA Glee Club participated in Pueri Cantores' 40th International Congress held recently in Rome, Italy.  They left for Rome on December 26 and sang on four separate occasions while there. During the Opening Ceremony, they marched from the Castel Sant'Angelo down the Via Conciliazione to Saint Peter's Basilica where they marched through the Holy Door which has been opened for the Jubilee Year.  They then sang with all American and Irish choirs for the Mass of Nations at the Basilica of Saint John Lateran.
New Year's Eve and New Year's Day was the climax of the trip. On December 31, the Glee Club sang at Sala Nervi in a performance in honor of the Holy Father, "Christmas Around the World." The international choirs serenaded Pope Francis with the Argentinean Carol "El Naciemiento." 
At 10:00 A.M. on New Year's Day, the Glee Club sang in the World Peace Day Papal Mass and then gathered for Angelus in St. Peter's Square. The girls returned home on January 2nd with memories to last a lifetime. Check out the Papal Mass here.