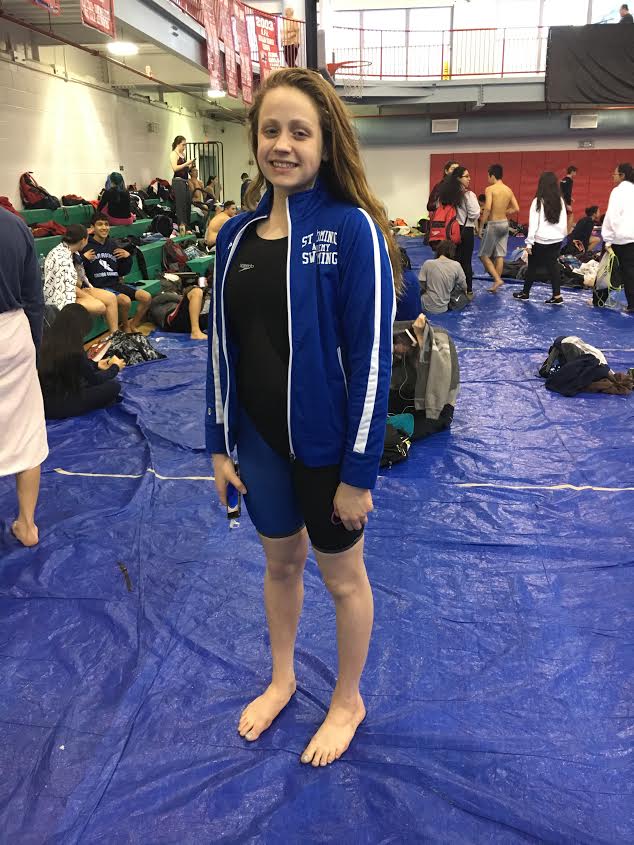 At the Hudson County Swimming Championship finals on Monday February 27, a Saint Dominic Academy sophomore, representing SDA, broke two County Records in the 200 yard Freestyle with a time of 1:55.34 and the 200 yard Individual Medley with a time of 2:07.28, in addition to helping her relay 200 medley relay and 400 Free relay to second place finishes.
In addition to representing Saint Dominic Academy, she trains with Scarlet Aquatic Club year round amongst many of the state's best swimmers and will forgo the High School Meet of Champions to compete at the Arena Pro Swim Series in Indianapolis.  The Arena Pro Swim Series will offer challenging competition with the country's best rising age group swimmers, college swimmers and professionals.  At the end of the March, she will compete at Speedo Sectionals, a regional championship held in Indiana.
The sophomore has further qualified to represent TEAM USA in the 2017 International Maccabi Games in Israel this summer. This event is the third largest sporting event in the world held every 4 years, with about 42 countries sending their best in each sport. Besides competition, she will have some time to experience Israeli and Jewish culture and historic country.

The SDA Swim Team, itself, also had a great season finishing second in their league and third (out of 12) in the Hudson County Championships.  Another sophomore also set a record in the 100 Free with a time of 56.40 seconds.  Team members came in 1st  and 12th in the 200 IM, 1st  in the 50 Free, 1st in the 100 Free, 1st and 9th in the 200 Free, 7th and 9th in the 500 Free, 9th in the 200 Free Relay, 2nd in the 400 Free Relay, 10th in the 100 Breaststroke and 2nd in the 100 Medley Relay.